The best way to move Multi Room Audio player from one PC to another is to install it on a new computer and then copy one folder and few files with all settings.
The installation process is simple, run the setup file and follow the instructions. After installation, you need to activate and register the software. Please press the Activate button then enter your key to the registration window, please press Register button.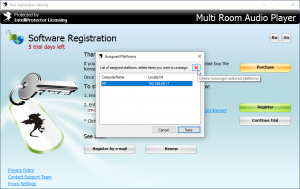 The Assigned Platforms window will appear. Here you can view all computers that use this registration key. Please select unnecessary platforms and press the red cross at the right upper corner to remove them. The Save button will close this window, now press Register button again.
Your new installation of Multi Room Audio Player is registered and ready to use.
The main folder with all workspaces, playlists, logs and so on located at C:\Users\_your_name_\Documents\MZAP5\
Simply copy all files and folders from old MZAP5 to the new one.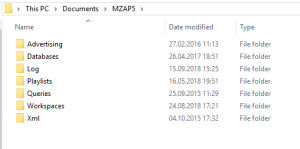 I suggest you purge Log folder and delete all old log files before copying. If you want to copy all main settings such as passwords, you need to copy few files from the folder C:\Users\_your_name_\AppData\Roaming\MZAP5

Please don't forget to change _your_name_ to your current username on the corresponding PC.
If you have different audio cards setup on your new PC you may need to change your Zones settings. But if your sound setup is the same it should work without any changes. That's all.
If you have questions, please use our Contact form or post a comment below.
This post is also available in: Английский Немецкий Украинский